Click here for our full calendar of cooking workshops, farmer's markets, and upcoming events!
http://www.carolynsfarmkitchen.com/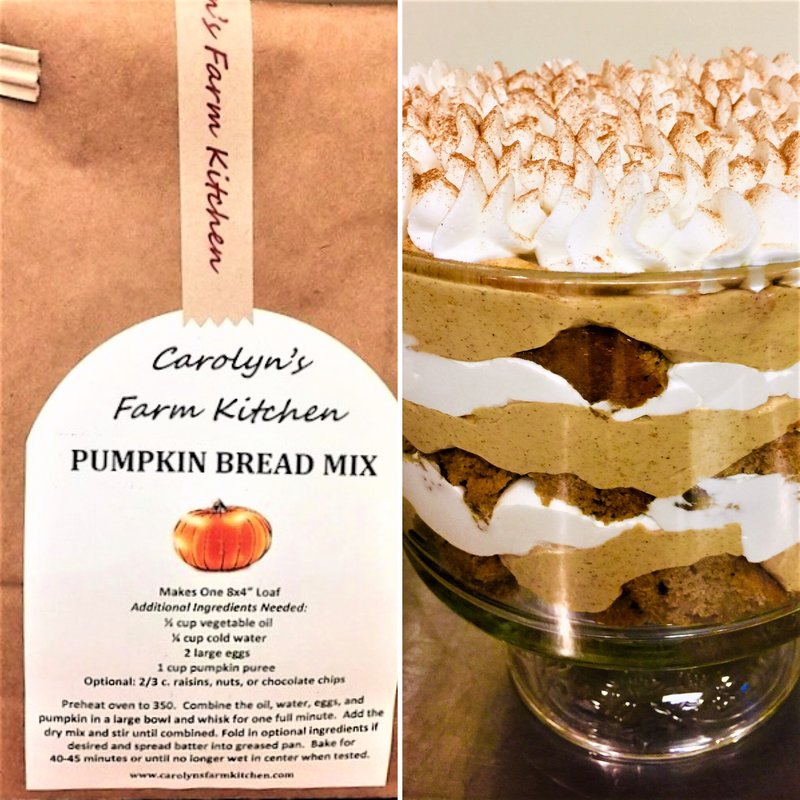 PUMPKIN TRIFLE
Yields: 12-14 servings (one 8" round x 5" deep trifle bowl)
Ingredients:
One baked loaf Carolyn's Farm Kitchen Pumpkin Farm Mix
2 c. heavy or whipping cream, chilled
¼ c. confectioner's sugar
1 lb. cream cheese, at room temperature
1 ½ c. granulated sugar
1 Tbl. cinnamon
1 ½ tsp. allspice
1 c. pumpkin puree
1 tsp. vanilla
Combine heavy cream and confectioner's sugar in a chilled bowl and whip with an electric mixer on medium-high speed until stiff peaks form.  Transfer the whipped cream to another bowl, wrap and place in the refrigerator until ready to use.  Back into the same mixing bowl combine the cream cheese, sugar, and spices and blend on medium speed – scraping the sides and bottom often - until the cheese is completely smooth and no lumps are visible.  Add the pumpkin and vanilla and continue mixing until thoroughly blended.  Keep chilled until ready to use (this filling can be prepared up to 4 days in advance).
Trifle Assembly:
Assemble the trifle in a large glass trifle bowl (or wine glasses for individual servings).  Cut the pumpkin bread into 1" cubes and cover the bottom of the bowl in a single layer.  Add one generous cup of the filling mix, followed by one generous cup of whipped cream, making sure to spread each layer evenly and out to the sides of the bowl.  Repeat this layering process (cake, filling, cream) two more times, however the final top layer of whipped cream should be piped with a pastry bag or spread decoratively.  Sprinkle the top very lightly with cinnamon and keep refrigerated until ready to serve.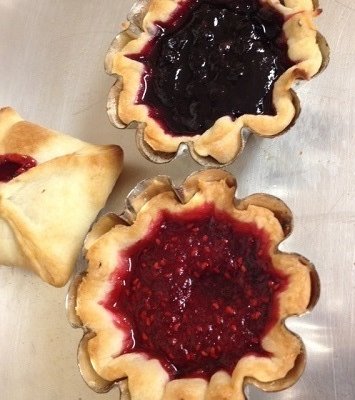 TEA-TIME JAM TARTS

Yield:  24 mini bite-size tarts
Ingredients:
1 ¼ c. flour
¼ tsp. salt
1 Tbl. sugar
½ c. (1 stick) cold unsalted butter
1 egg yolk
¼ c. ice water
Carolyn's Farm Kitchen Jam or Preserves

Fresh berries (blues, raspberries, or blackberries)
Optional: confectioner's sugar for dusting
In a food processor or large bowl combine the flour, salt and sugar to blend.  Add the cold butter, 'cutting in' until incorporated.  Whisk together the egg yolk and
ice water and blend briefly with the dry ingredients until a dough is formed (a few extra drops of water can be added if needed).  Wrap and chill the dough for 30 minutes or until ready to use (dough can also be frozen).
Preheat the oven to 400 and lightly spray a mini muffin tin.  Working with half of the dough at a time, roll thinly on a lightly floured surface and use a 2" biscuit cutter to cut even circles.  Place the pieces into the bottom of the tin to create mini cups, and fill each cup with 1 tsp. of jam (be careful not to overfill….the jam should come only half-way up dough).  Bake tarts for 7-8 minutes or until the crust is golden.  Remove from the oven and cool completely before removing tarts from the pan.  Dust cooled tarts lightly with confectioner's sugar and top with 1-2 whole berries (extra undecorated tarts can be stored in an airtight container at room temperature for several days).
BLACKBERRY-STUFFED SCONES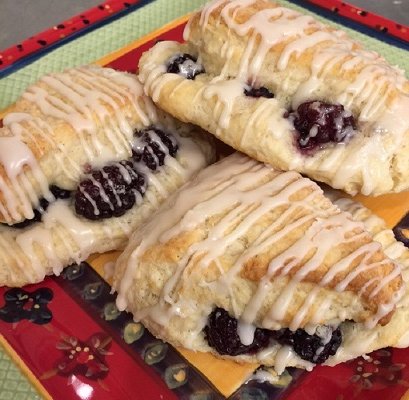 Yield:  10 large scones

Ingredients:
1 pkg. Carolyn's Farm Kitchen Buttermilk Scone Mix

1 ½ c. blackberries, washed & dried thoroughly
Glaze:
2 c. confectioner's sugar
¼ c. pure maple syrup
Whole milk as needed
Preheat the oven to 400.  Prepare scone mix as directed. Transfer the dough onto a lightly floured surface and press into a large round disc, approximately 1" in thickness. Place the disc on a parchment-lined pan and freeze for 10-15 minutes to chill (leaving the floured surface to use again).
Remove the dough from the freezer and divide evenly in half, and then each half into 5 even wedges, for a total of 10 large scones. Use a paring knife to make a slice through each scone, starting at the point and slicing in half horizontally through the center but leaving the back hinge attached.  Carefully lift the point, place 3-4 blackberries inside each scone and lay dough back over the top.  Place the scones on a greased, parchment-lined baking sheet and bake for 12-14 minutes or until the dough is cooked through.  Remove from the oven and cool slightly before drizzling with maple glaze.
Glaze:  In a small bowl whisk together the confectioner's sugar and maple syrup until completely smooth.  Add a few drops of milk as needed for desired consistency (the icing should just be thin enough to drip slowly off of a spoon).  Drizzle the glaze generously over scones and let set before serving.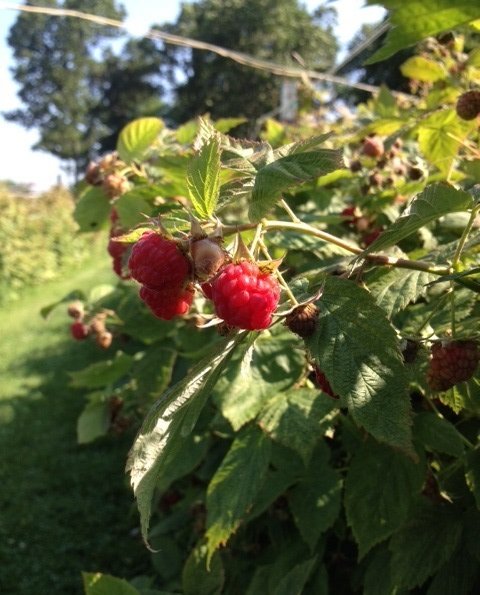 RASPBERRY-ALMOND CREAM CHEESE CRUMB CAKE
Yield:

 

One oblong pan (approx. 9"x11")
Ingredients:
2 ¼ c. all-purpose flour
¾ c. sugar
¾ c. (1 ½ sticks) unsalted butter
1/3 c. sliced almonds
----------------------------
½ tsp. baking soda
½ tsp. baking powder
¾ c. sour cream
1 tsp. almond extract
1 large egg, beaten
---------------------------
½ lb. cream cheese, at room temperature
¼ c. sugar
1 large egg
3/4 c. Carolyn's Farm Kitchen Raspberry Jam

Preheat the oven to 350.  Using a stand mixer or working in a large bowl with a hand mixer, combine the flour, ¾ c. sugar, and butter.  Blend on low speed until butter is incorporated and mixture is crumbly.  Remove one level cup of this crumb mixture to a small bowl and toss in the sliced almonds.  Set this aside.
To the remaining crumb mixture in the work bowl add the baking soda and baking powder and blend briefly.  Add the sour cream, almond extract, and beaten egg, mixing thoroughly until a smooth batter is formed.  Lightly spray the baking pan and spread this batter thinly over the bottom and partially up the sides of the pan (approx. ¼" in thickness).  Using the same mixing bowl combine the cream cheese and ¼ c. sugar, beating well on medium speed until no lumps of cheese remain (scrape bowl once or twice).  Add the egg and continue mixing until completely smooth.  Spread this mixture over the bottom of the batter in the pan, drop dollops of raspberry jam and use a butter knife to swirl it into the cheese mixture.  Sprinkle the reserved almond crumb topping over the top and bake the cake for 25-30 minutes or until lightly golden and the cheese mixture is set in the center.  Cool to room temperature before serving.

JAM OATIES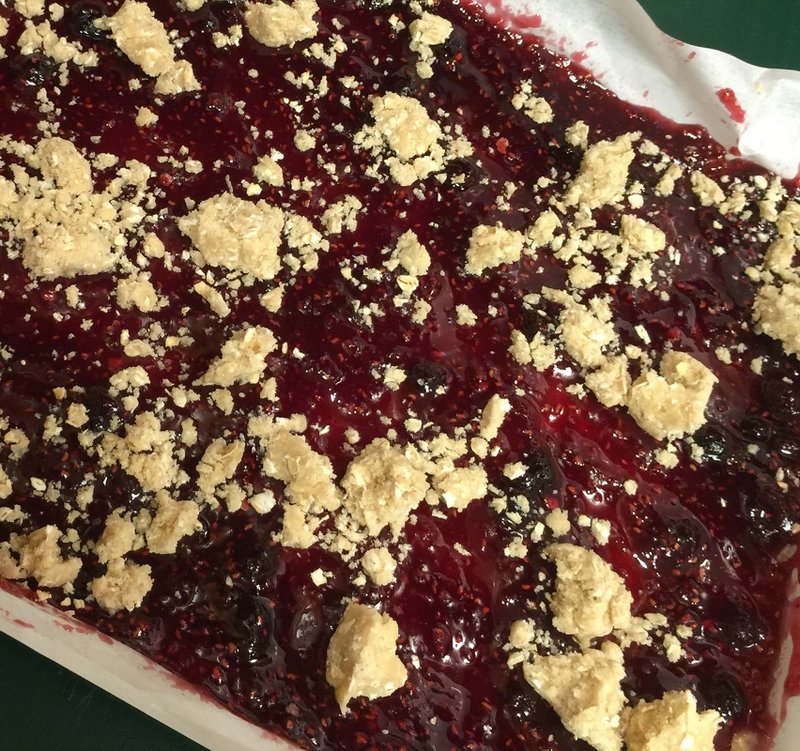 Yield:  One 9x13" pan (16 full-size bars or 48 mini pieces)
2 c. flour
2 ½ c. old-fashioned oats
1 ½ tsp. baking powder
1 ½ c. packed brown sugar
1 ¼ c. (2 ½ sticks) unsalted butter, at room temperature
1 jar of your favorite Carolyn's Farm Kitchen Jam (raspberry, blueberry, apricot, strawberry-rhubarb, Dutch apple pie)

Preheat the oven to 350.  Lightly grease a shallow baking pan and line with parchment to cover the bottom and up the sides completely (excess is OK).  Combine all of the oat mixture ingredients in a large bowl and blend using a pastry cutter or mixer on low speed until everything is thoroughly incorporated and the mixture is very moist but still crumbly. Spread 2/3 of the mixture evenly into the bottom of the prepared pan (about 1/3" in thickness), and pack it firmly with your hands into a bottom crust.  Spread the jam evenly over the oatmeal base and drop the remaining oat mixture into clusters over the top, not covering completely but leaving 'windows'.  Bake at 350 for 25 minutes or until the oat topping is lightly browned (they will firm up as they cool).  Remove from the oven, cool, and chill to set in the refrigerator before cutting into desired number of pieces.  Note: oaties will last 5 days and do not need to be stored in the refrigerator.
Whipped Apricot Butter
Yield: ½ cup
Ingredients:
1 stick (1/2 c.) unsalted butter, softened at room temperature
Pinch kosher salt
1/3 c. Carolyn's Farm Kitchen Apricot Jam
Whip together all ingredients using an electric mixer until light and fluffy consistency and preserves fully incorporated.  Transfer to a small crock and serve at room temperature or store in the refrigerator for up to 2 months.  Butter can also be rolled into parchment logs and frozen up to 6 months.  Enjoy butter on toast, pancakes, waffles, muffins, and dinner rolls.